Home
Products
HiFi Cabinets
Updates
ADVANTAGES
Unique patented new type ribbon tweeter -- linear source, piston motion, low distortion, high power handling and wide range!
Unique patented symmetrical woofer -- 'V' type symmetrical driving, high compression ratio, small volume, high energy and excellent transiency!
Excellent linear source, authentic fidelity, accurate positioning, wider sound field and much more powerful and lower bass!
FOREWORD
Why do we Use Cabinet?:
The reason and purpose that we use a cabinet is to reproduce the low frequency signal especially the signal below 100Hz.
Some Virtues of a Good HiFi Cabinet:
Lower Foc point, smaller volume, higher dynamic range, lower distortion & good transiency。
Some Notes on Choosing & Designing Woofer in a Cabinet:
1.Given some woofers with the same F0(free air resonance frequency) to use, usually a woofer with a larger caliber has larger Equivalent Volume thus requires a box with much more larger volume to match it. A smaller woofer could work with a smaller box to reproduce the bass signal.
2.When the bass signal is below 100Hz, a woofer with larger caliber falls(or drops) more slowly at its F0 for it has greater Radiation Resistance, so a woofer with larger caliber has more energy in reproducing bass signal. A woofer with smaller caliber has smaller Radiation Resistance at its F0 so it drops more quickly and sharply and has much less energy in reproducing bass signal, further more smaller woofer will also has severe power-compression in reproducing high power bass signal.
A Dilemma in Cabinet Design:
Below 100Hz the
"Volume Velocity"
is proportional to the Radiation Dimension, this cause a dilemma:When we have determined the box volume, smaller calibre woofers could give a lower low-frequency limit more easily but worse bass quality while larger calibre woofers have higher low frequency limit but greater energy.
DDQ has solved this problem, it has small equivalent volume, lower frequency limit, greater radiation resistance below 100Hz and high compression ratio, these make it has much better power compression performance. Under the same box volume DDQ could both has lower frequency limit(like small calibre woofers) and more bass power and energy(like large calibre woofers).
WOOFER DETAIL
BZ-1 Bookshelf Cabinet adopts 'DDQ5-2' as its woofer unit. The three letters 'DDQ' are the acronym of the Chinese Pinyin -- "Duolian-Duicheng-Qudong" and in English 'DDQ' means "Multi-Folded Series and Symmetrical Driving Technology". This is BoZhen New Audio Lab's newly milestone invention after many years of hard work, persistent endeavor and countless failures. It has a unique symmetrical structure which is inspired by the principle of producing sound of the AMT tweeter. Fig.1 shows the main structure of DDQ: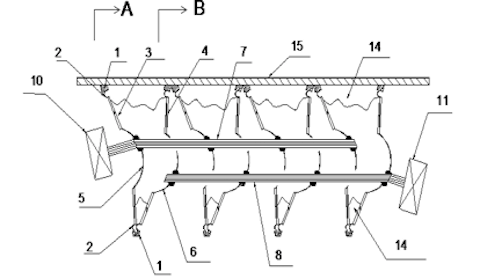 Fig.1 DDQ's main structure
| | |
| --- | --- |
| 1.Frame | 7.Transmission Pole-A |
| 2.Surround | 8.Transmission Pole-B |
| 3.Cones-A | 10.Driver Unit-A |
| 4.Cones-B | 11.Driver Unit-B |
| 5.Transmission Plate-A | 14.Side Plate |
| 6.Transmission Plate-B | 15.Front Panel |
DDQ has similar mechanism in producing sound with AMT at first glance. They both produce sound by pulling and pushing air. The most difference is that the DDQ does this by the symmetrically set of two drivers and several 'V' type structures and two adjacent cones(driven separately by the two drivers) in every 'V' type structure but AMT does this by the adjacent voice coils printed in the middle of wave-shape diaphragm. See Fig.2 for the comparison of the two methods:

Fig.2 DDQ(Left)'s driving mechanism compares with AMT(Right)'s driving mechanism
Compared with traditional woofers, the 'DDQ' type has several advantages:
Symmetrical Driving -- Less Reacting Force & More Clarity

The two drivers set on the two ends of DDQ drive the adjacent cones in opposite direction, this makes its overall reacting force nearly zero. However the traditional woofer will have great reacting force under high power input, thus traditional woofers(especially in large calibre) need thicker front panel and side panels otherwise the reacting force will cause non-negligible sound pollution. The good thing is that the DDQ doesn't need these measures and even under high power input condition the DDQ's bass performance doesn't only have great energy but also impresses you greatly with its clarity, good feeling of hierarchy and very good transiency!

SPL Nearly Flat at F0 & High Radiation Resistance Over Low Frequency Range

The DDQ's sounding structure has several cones so it has greater radiation dimension. Moreover these cones are set in several 'V' type structures and the adjacent cones motion in opposite direction so it has a degree of compression ratio and greater 'Volume Velocity' as well. All this advantages make it has greater radiation resistance under 100Hz and no fall at F0(better yet, it even has some raise at F0). However all of the traditional woofers have a certain degree of fall at F0 according to the calibre dimension. For example: usually at F0 point, the 6.5-inch woofers fall about 8dB(or even worse), 8-inch woofers fall about 5dB(or even worse), 10-inch woofers fall about 4dB(or even worse). As we know that 3dB means two times in power and 6dB means four times in power!

Smaller Equivalent Volume and yet Greater Energy

DDQ adopts several 'V' type structures to hold those sounding cones so its dimension is not so big as you may imagine. The dimension of its front panel is just half-size of the traditional woofers with the same radiation dimension. More importantly, DDQ's equivalent volume is much less than the traditional woofers' which is only about 33%. So with the same low frequency limit capability the cabinets that adopt DDQ has much smaller size than those adopt the traditional woofers. For example: a small-mid size (about 30L) bookshelf cabinet using DDQ5-2 could give you a bass quality of a larger mid-size reflect-type floor standing cabinet mounted with traditional woofer in same radiation dimension, a mid-size floor standing cabinet(about 70L) using DDQ6.5 could give you a bass quality of a large-size reflect-type floor standing cabinet mounted with traditional woofer in same radiation dimension.

High Compression Ratio

DDQ's sounding structures bear great compression-ratio when it is working, its high frequency limit depends on its first-time partition vibration frequency point. Because of this characteristic the DDQ's high frequency limit is much lower than traditional woofers(the latter could work with partition vibration). For example: 'DDQ5-2' works in the range of 42Hz ~ 1600Hz, DDQ6-2 works in the range of 34Hz ~ 1400Hz, a traditional 8-inch woofer normally could work up to 2000Hz or higher. So the upper limit of DDQ is lower than the traditional woofers. If you want to match DDQ with traditional tweeters(dome, true ribbon, AMT, planar), for the reason that these tweeters' low end always higher than 2000Hz, a 3-way system was recommended(you need a extra mid-range unit). The good news is that we also had developed a new type of ribbon tweeters(CQ76 CQ66) to match with DDQ for they could work in much lower frequency(

CQ76 could work below(or equal) 1500Hz and CQ66 could work below(or equal) 1800Hz

) than other types of tweeters. Using CQ76 and CQ66 you could build a nothing short of

PERFECT

2-way HiFi system.
TWEETER DETAIL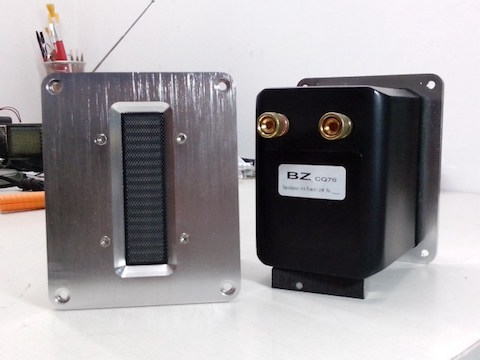 Fig.3 CQ76 ribbon tweeter
CQ76 is our unique patented tweeter product and also our first milestone product, it has many advantages such as wide range(1500Hz ~ 32000Hz), low crossover point, very low distortion, high power handling, piston motion(1500Hz ~ 15000Hz), wide horizontal dispersion, perfect linear source. Under the same area of diaphragm its comprehensive performance is better than other types of tweeters such as traditional true ribbon, AMT, planar tweeter and cone tweeter. CQ76's detail specifications could be found
here
(this web page also include a test report from the VoiceCoil Magazine in the 2013 April issue).
As a mid-high unit in the 2-way system(1500Hz ~ 32000Hz), CQ76 has an very authentic and perfect fidelity in reproducing the audio signal. Even under high volume output it could still keep high fidelity!