Home
Products
HiFi Cabinets
Updates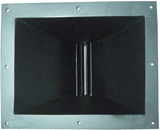 Model CQ76-H
CQ76-H Horn Ribbon Tweeter
Horn-loaded Compression tweeter based on single CQ76 ribbon driver and a set of specific optimized phase plugs. This model features high sensitivity (99dB), wider response ( 0.8 ~ 20KHz ), flat response (0.8~16KHz +/- 2dB) and ultra low distortion (0.8~15KHz THD<1%). All of these advantages make it very suitable to act as an mid-high unit in the
Line Array
systems and household vacuum tube PA powered Hi-Fi systems and KTV systems.
See More......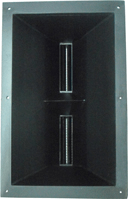 Model CQ76-2H
CQ76-2H Horn Ribbon Tweeter
Horn-loaded Compression tweeter based on dual CQ76 ribbon drivers. With specific optimized phase plugs and special horn design, these dual CQ76 horn tweeters connected with each other in a vertical line nice and balanced. Thus this model has higher sensitivity, higher power handling and lower frequency limit. Specifically, it features high sensitivity (104dB), wide response (0.7~20KHz), flat response (0.8~16KHz +/- 2dB) and ultra low distortion (0.7~15KHz THD<1%). All of these advantages make it very suitable to act as an mid-high unit in the
Line Array
systems and
Professional loudspeaker
systems.
See More......