Home
Products
HiFi Cabinets
Updates

DDQ CURRENT MODELS
DESIGN PRINCIPLES
DDQ is the acronym of Chinese Pinyin 'Duolian Duichen Qudong', which means 'Multi-folded Symmetrical Driving Technology'. Its structure is totally different from the traditional woofers.
DDQ's patented and unique design mainly comprises of these parts below:
1. several 'V' type sub-structures which mainly comprises of two cone frames and two cones;
2. two symmetrical driving unit installed on its two ends;
3. two specially designed high rigidity transmission poles go through each 'V' sub-structures' center;
4.two transmission poles are drove separately by one driving unit;
5.each transmission pole drives one cone in every 'V' sub-structures it goes through, it means, if DDQ has two 'V' sub-structures, each one transmission pole will drive two cones at the same time;
When the DDQ works, two symmetrical driver units push and pull the two cones in every 'V' type sub-structures' by the transmission poles, and then the two cones in every 'V' type sub-structure move in opposite direction. Through this motion, the air just pulled in or pushed out to produce sound. Compared with traditional cone-type woofers , the DDQ has specific compression-ratio. Under the same output area, the DDQ features much better driving performance, much greater dynamic range!!
STRUCTURE FEATURES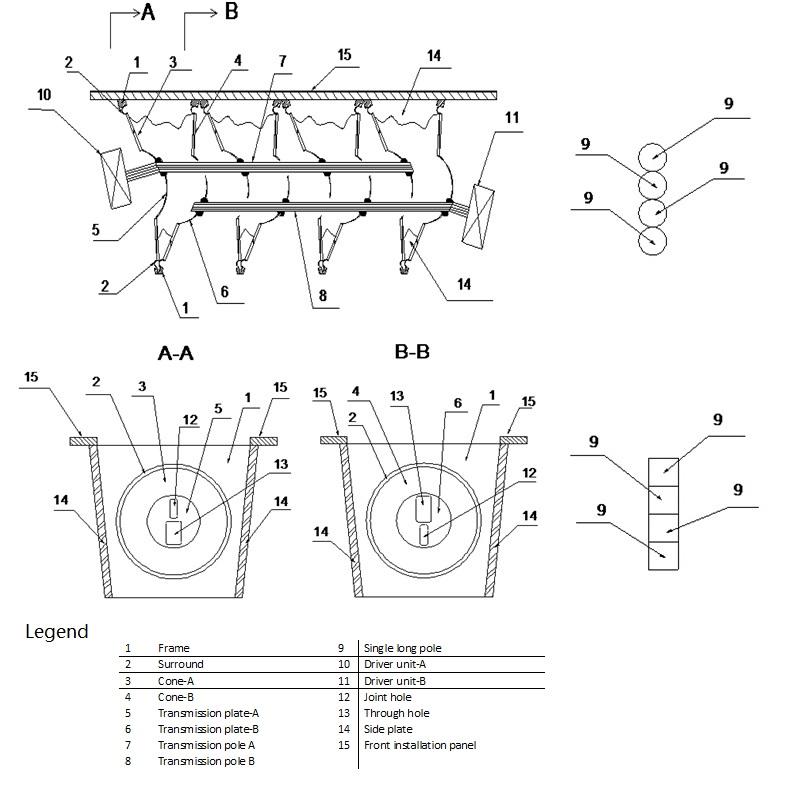 PERFORMANCE FEATURES
1. DDQ's low end limit is F0, please notice that its SPL has no roll-off on its F0 point. Usually, a traditional woofer will has a typical 3~6 dB roll-off at its F0. With smaller caliber, the roll-off gets sharper! Our model 'DDQ5-2' has its F0 at 60Hz while its SPL has no roll-off at 60Hz and -3dB at 42Hz. The model 'DDQ6-2' has its F0 at 55Hz while its SPL has no roll-off at 55Hz and -3dB at 34Hz. The model 'DDQ8-2' has its F0 at 32Hz while its SPL has no roll-off at 32Hz and -3dB at 27Hz.
2. DDQ adopts a symmetrical driving structure. So the motion direction between the adjacent cone is opposite thus has a nearly zero resultant forces. When installed in the speaker box, it brings very slight vibration, so the bass quality is much purer! On the contrast the traditional woofer has much greater counterforce.
3. DDQ has several 'V' type sub-structures and each 'V' type sub-structure acts as a sound source when it works. In each 'V' type sub-structure, it has two cones that driven by separate transmission poles in opposite direction. When DDQ works these two cones in each 'V' items will pull-in or push-out the air to produce the sound. Because this 'V' type structure has particular compression ratio, in the range of low freq the DDQ has much better power compression performance than traditional woofers.
4. The DDQ's THD level above 100Hz is very similar with traditional woofers but its has obviously much lower THD level from F0 to 100Hz. Traditional woofers' THD level increases gradually from 100Hz to F0 and it grows rapidly as it comes to F0. Normally speaking, if a traditional woofer has 1% THD level at 100Hz then it will grow up to 5% at its F0. DDQ has a similar THD level at its F0 point (1%) and it grows up to 2.5% roughly. In real listening test the DDQ could produce much better powererful, lower and purity bass.
Under the same test conditions we used SoundCheck system to do the THD test on both DDQ and traditional woofers and we got the data below(here we use 'TW' as 'traditional woofers' for short):
| | DDQ's THD@10Hz | TW's THD@10Hz | DDQ's THD@Fs | TW's THD@Fs |
| --- | --- | --- | --- | --- |
| DDQ8-2 vs. 8inch TW | 17.5% | 31.8% | Fs=32Hz, 1.6% | Fs=32Hz, 6.4% |
| DDQ6-2 vs. 6inch TW | 13.6% | 40.8% | Fs=50Hz, 2.3% | Fs=63Hz, 2.3% |
| DDQ5-2 vs. 5inch TW | 21.7% | 64.7% | Fs=60Hz, 3.0% | Fs=63Hz, 3.7% |
Note:
TW: The abbreviation of 'Traditional Woofer', here we use it just for short. Similarly hereinafter.
SoundCheck
TM
curves(DDQ8-2 vs 8inch TW woofer)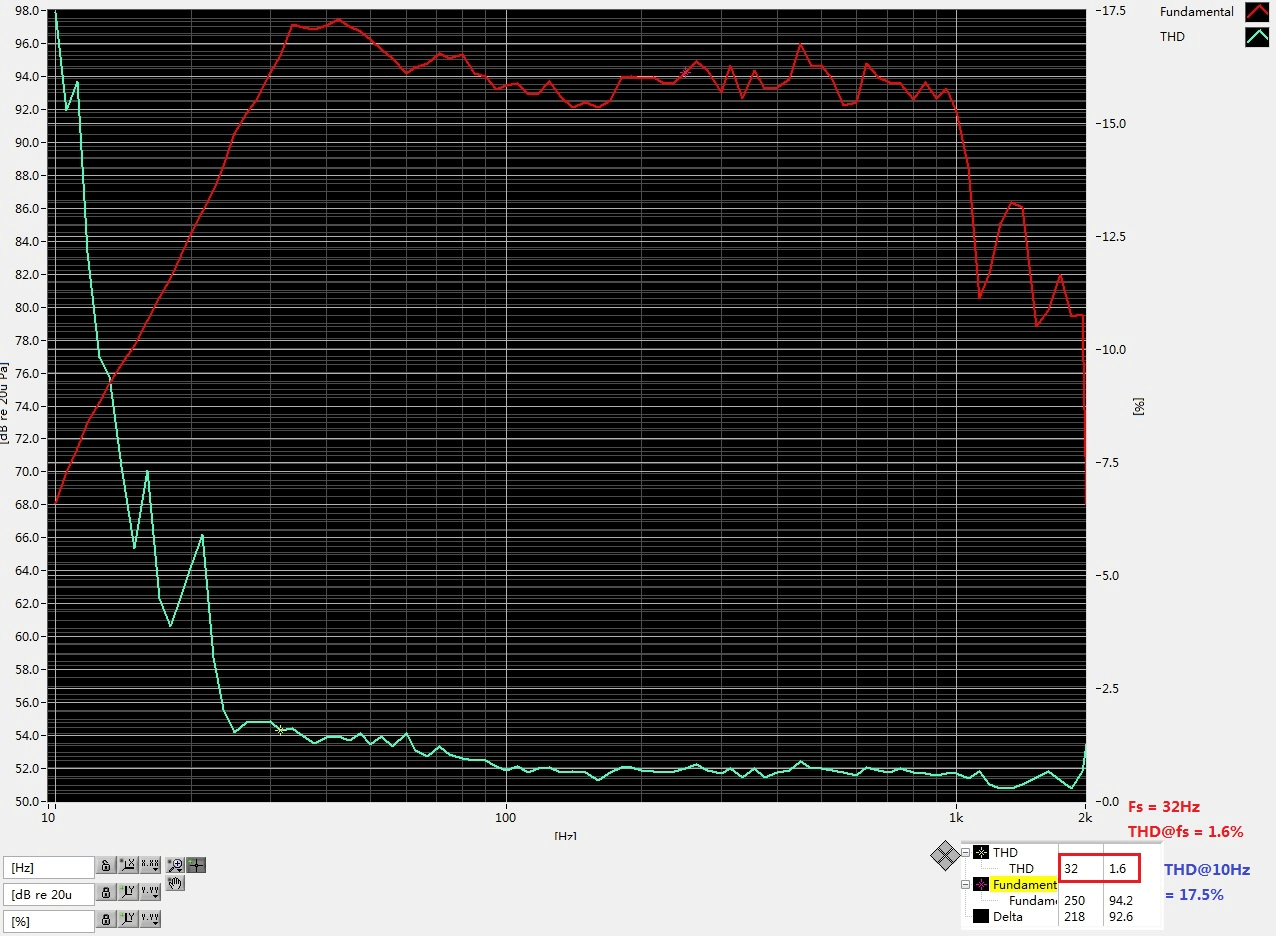 Fig.1 DDQ8-2 SPL(94dB) vs. THD(SoundCheckTM) curves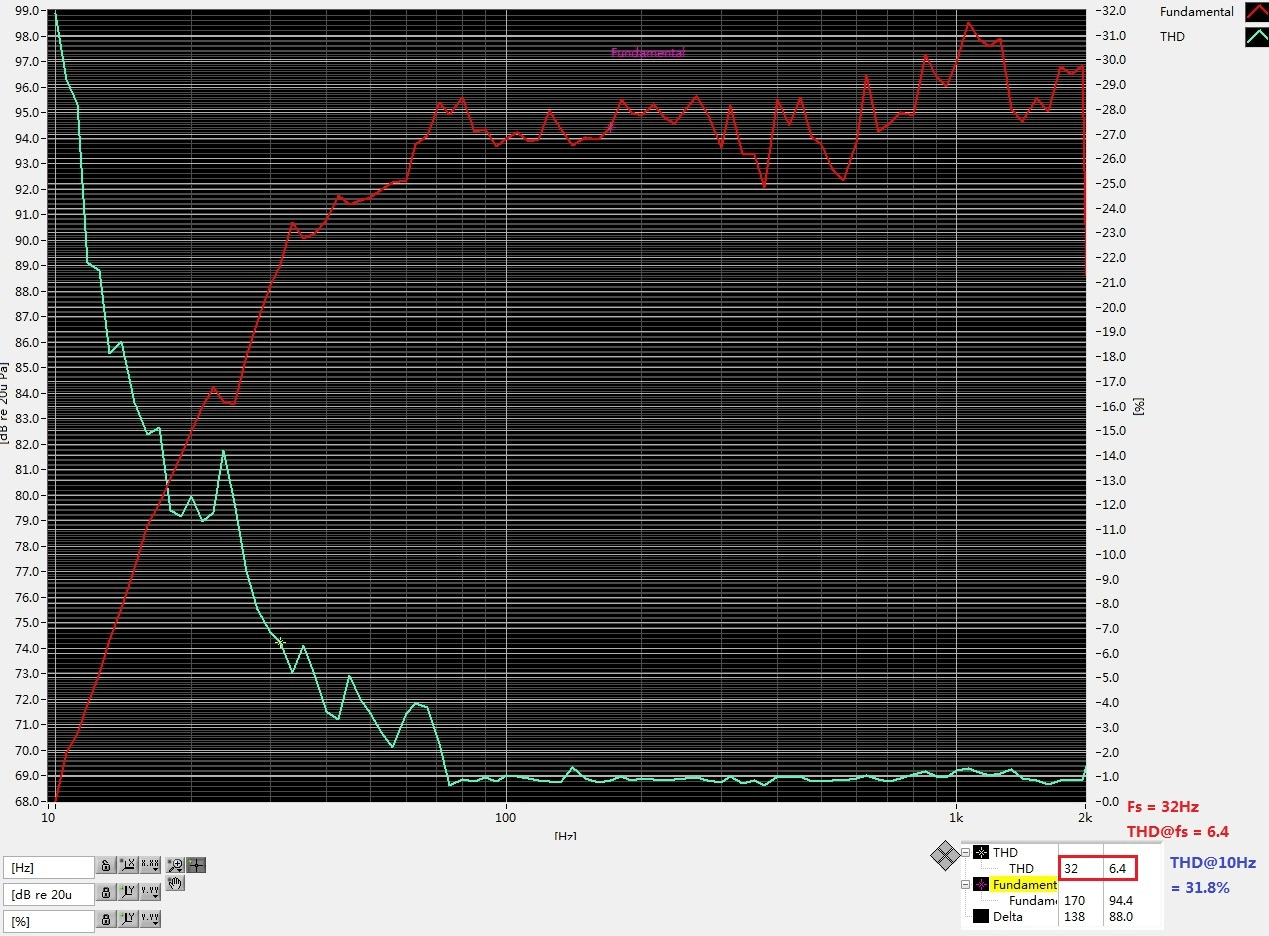 Fig.2 8inch TW SPL(94dB) vs THD(SoundCheckTM) curves
Other comparisons:
NOTICE
After reading all the info we described above, an experienced speaker designer must have a question -- 'The depth of the DDQ's "V"-type structure would cause severe front-chamber-effect thus results in big fluctuation in response(especially in high frequency range), how do you fix this problem?'
Yes! The 'front-chamber' effect really exist in the early prototypes of DDQ and gave a bad impact on the response. After many analysis and experiments we successfully solve this problem by adding arrays of regular and optimized rectangular holes(we called these holes as 'Q-damping' hole) in every side plate of the 'V'-type structure and we filled these holes with damping materials. This measurement fixes this problem effectively. The 'front-chamber' effect has been deminished greatly without affecting the whole performance and the response of DDQ in mid-high range just becomes as flat as traditional woofers'.
Currently DDQ series has four models: