Home
Products
HiFi Cabinets
Updates
ABOUT BOZHEN NEW AUDIO LAB
Over the years BoZhen new audio lab is focusing on the researching, designing and developing with new type loudspeakers persistently, including tweeters and woofers. Through years of hard work and countless failures we have successfully developed a series of new type ribbon tweeters with revolutionary breakthrough and fully self-owned independent intellectual property. This series was named as CQ. The 'CQ'-type tweeter was designed as a mid-high unit in a HiFi system. Now the CQ series contains five models:
CQ66 HI-FI RIBBON LOUDSPEAKER(SACD)
CQ76 HI-FI RIBBON LOUDSPEAKER
CQ76-H SINGLE DRIVER RIBBON COMPRESSION HORN LOUDSPEAKER
CQ76-2H DUAL DRIVER RIBBON COMPRESSION HORN LOUDSPEAKER
Besides the CQ series, another patented and milestone design we have is a new type woofer design. It was named as DDQ series. Currently the DDQ series contains four models:
DDQ5-2 NEW TYPE WOOFER
DDQ6-2 NEW TYPE WOOFER
DDQ8-2 NEW TYPE WOOFER
PRODUCT ADVANTAGES
The 'CQ' is the acronym of Chinese Pinyin -- 'Chuandaopian Qudong'. In English our CQ ribbon tweeters adopts a unique 'CSD' technology(aka Conduction Slices Driving Technology). From the perspective of pure technical aspect, our new type ribbon tweeter(CQ series) could be defined as a "ribbon-type diaphragm loudspeaker based on separate and high rigidity structures of voice coil and diaphragm". The 'CQ' type is not simplely based on the traditional alum ribbon tweeters, it is definitely not a tweak, modification, or upgradation on the traditional alum ribbon structure, it is a completely all new structure! The CQ series doesn't only features line source characteristic which is much better than traditional aluminium true-ribbon tweeters, but also has more advantages that aluminium true-ribbon tweeters do not have:
Its diaphragm structure keeps 'Piston Motion' within the important frequency range(1500~15000Hz) while the aluminium ribbon tweeters(also including dome tweeters and AMT tweeters) behave partition vibration within the same range. Thus CQ76 possesses much more fidelity, much lower distortion and much lower practical frequency limit(lowest practical crossover point is 1500Hz, which is much better than the aluminium ribbon speakers and cone HF speakers with the same dimension). This advantage makes it very easy to match with large calibre woofers.
Its separated voice coil and diaphragm structures adopt a absolutely unique design, which is totally different from the traditional aluminium ribbon tweeters. The power handling of CQ76 is several times of the aluminium ribbon speakers with the same diaphragm dimension and much bigger than the cone HF speakers with the same voice coil size, thus CQ76 has much better reliability than the former two tweeters.
It has a surround set around the edge of its high rigidity diaphragm structure, thus the Acoustic Shortcut never exist! While the aluminium ribbon speakers have this drawback severely within the middle range. The CQ76 has much better middle range performance than the former ones.
STRUCTURE FEATURES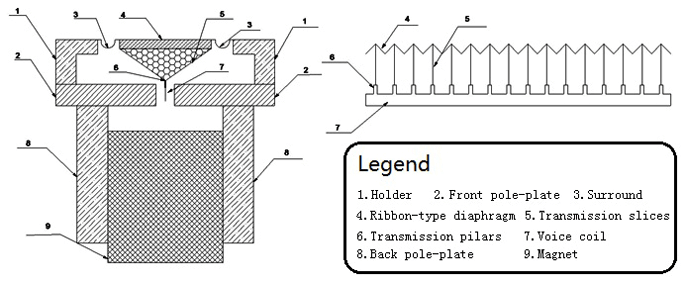 HIGH RIGIDITY VOICE COIL & DIAPHRAGM STRUCTURE
CQ76 adopts a creative patented high-rigidity structures in the voice coil and diaphragm and the connections between them as well.Here we put a 100 grams weight on the surface of the CQ76's diaphragm, it only causes a little deformation. Further more it has no performance impact at all when you take away the weight! See example pictures below(click for larger view):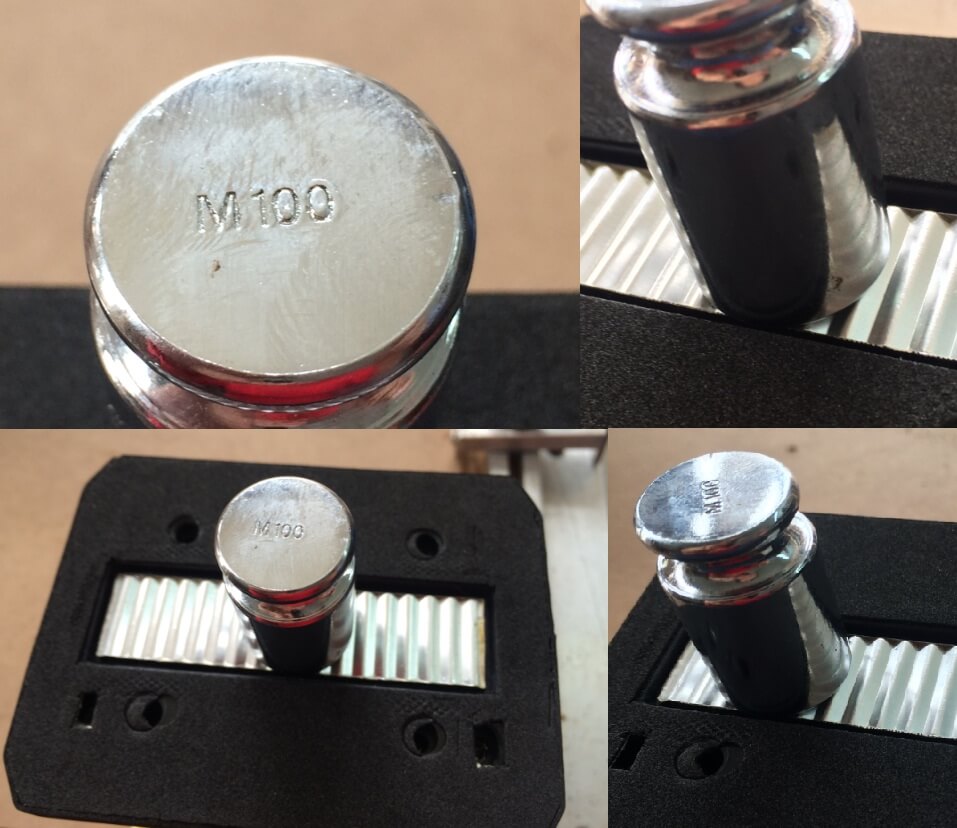 PRODUCT APPLICATION
The design of CQ76 is unique and so far there is no similar product or design all over the world. By virtues of our revolutionary and innovative design, CQ76 features wide frequency range, flat frequency response, well-performed linear source, ultra low distortion, much lower frequency limit, high power handling and reliability. In the condition of the same size, CQ76's overall performance is superior than the traditional aluminium speakers and cone HF speakers. The models that has a suffix 'H' (CQ76-H and CQ76-2H) are ribbon compression Horn-loaded tweeters based on CQ76 ribbon tweeters. There are specific optimized phase plugs set in the horn and the overall performance(except the sensitivity) is much better than those top-class compression HF horn drivers in the world when compared in the same size of diaphragm and horn.