Home
Products
HiFi Cabinets
Updates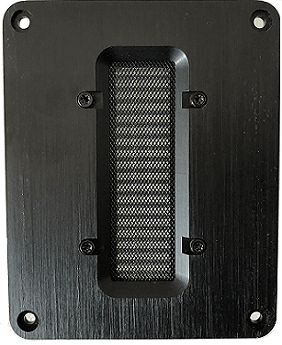 76mm*20mm diaphragm dimension

Features:
Unique Patented Design
Accurate piston motion
Frequency range: 1000Hz ~ 30000Hz
Flat response:

1000

~ 20000Hz < +/-2dB
20000 ~ 28000Hz < +/-3.5dB

Reliably crossover @ 1000Hz

Sensitivity: 91dB @ 1 W / 1 m
THD: 1000Hz~10000Hz < 1%
Rated power: 25VA
(1000~15000Hz sine wave 3-minutes test)
Download:
Question 1: What's the major difference between CQ76B and CQ76?
Answer:
CQ76B was designed for our DDQ8-2(DDQ10-2) new type woofer to build large size 2-way cabinet at first. It has wider diaphragm and bigger back cavity for the purpose of extending its low-end freq limit(crossover@1000Hz & THD < 1%) and matching bigger calibre woofers(12-15 inch traditional woofer with rubber or foam surround, etc). What's more, when it works with our patented woofer DDQ8-2 (crossover@1000Hz) in a large size box (sealed box with a 140L volume) it will give you a perfect 2-way Hi-Fi system. But this achievement was acquired at the cost of high-end freq limit. CQ76B could only reach to 28000Hz.

CQ76 could work at 1500Hz reliably(it could match with our DDQ6-2 or 8~10inch traditional woofer for most middle size home 2-way Hifi systems) and its high-end freq limit could reach to 32000Hz.
Question 2: Then what's the advantage of CQ76B to work from 1000Hz? Most tweeters work from 2000Hz or even higher.
Answer:
OUR IDEA: At first we think the range between 1000-2000Hz is an important range and human ears are sensitive in this range. Then we can say that in most traditional box design the range between 1000Hz and 2000Hz(or even higher, 2500Hz, etc.) is handled by a mid speaker(in 3-way box) or a woofer (in 2-way box). And normally this mid speaker or woofer adopts a cone-type diaphragm, which results in a narrower horizontal directivity. This is definitely not good for reproducing the stereo field. And further more no matter it is a mid speaker(in 3-way box) or a woofer speaker(in 2-way box) the diaphragm of the speaker is too heavy (usually about 10 grams, or even heavier) to perfectly reproduce fast-paced music and the slightly changing details in the music as well.
With all the things we talked above then let's see what does CQ76B have:
1. Its vibration components(including line voice coil, transmission slices, diaphragm) weighs smaller than 0.5 gram.
2. It works in piston motion.
3. It is a natural line source with broad horizontal directivity.
So when CQ76B works from 1000Hz it could give you a large-dynamic sound field, a real and vivid sound quality: you can feel the depth and the width of the stage, you can clearly hear details of the music...
CQ76B THD Curve(SoundCheckTM)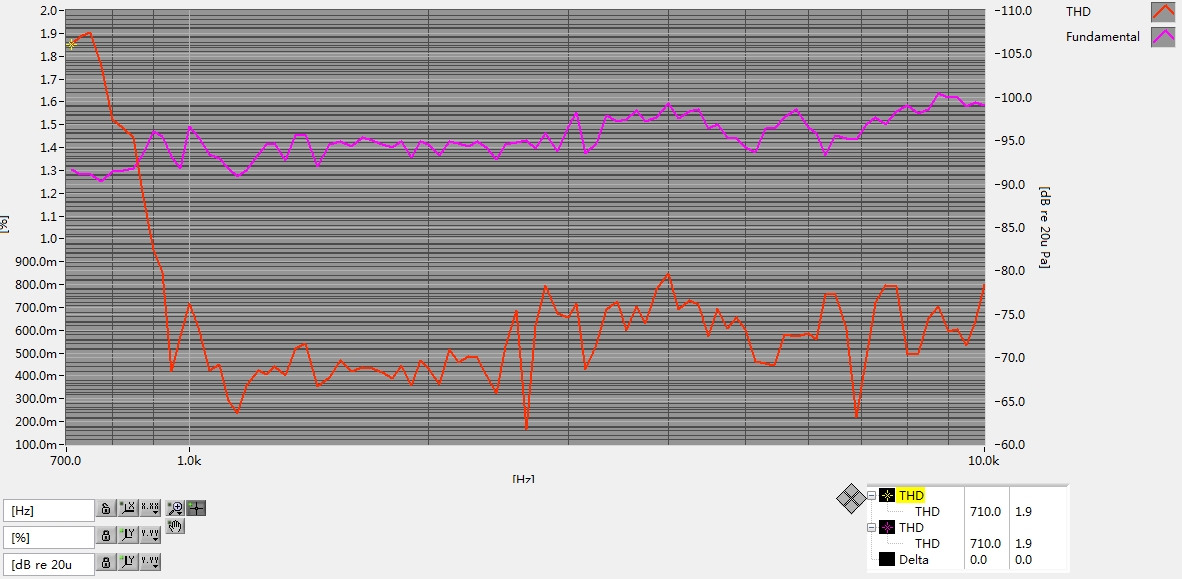 CQ76B Harmonics(SoundCheckTM)